Oh gosh guys.
Cynde texted me with the news because it's important to hear these things from your best friend. And then everyone started texting. Even my Mom! And Andrea posted on Facebook that she was waiting for a tribute blog post and I said to hold on because I had to get a sparkly black caftan and turban to mourn properly and then she responded, "Take all the time you need. If you can't find the turban, I hear a raspberry beret works too."
ZING, Andrea! I could leave it at that because you can't beat it. I laughed until I cried.
But I won't leave it at that because we need some music. The man was a star.
First, let's watch this video of Let's Go Crazy, which features two incredible performance - one by Prince and the other by Prince's feathery cape:
Forget the caftan, where can I get
that
outfit?
And now for some Purple Rain because this was the song that got me hooked on him over 30 years ago.
Next, this chart of Prince's hair through the years. I would absolutely hang this in my bathroom.
And finally, how much are we going to miss his epic side-eye.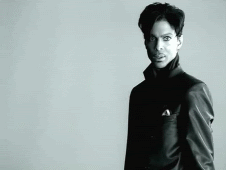 via GIPHY
So much!
Let's all go sit in our cars and weep as we belt Purple Rain.